Branded Promotional Products!
"Celebrating 35 Years" 1982 - 2017
The "ONLY" advertising products that remain to be seen!
Promotional products are the most effective, targeted advertising vehicle available in today's maze of advertising. They won't be turned off, have their channel changed or be thrown in the recycle bin. Often they are the only form of advertising that actually generates a "Thank You" from the recipient.
As a one-stop source for all your promotions needs, we can maximize the results of your marketing. We focus on building long term relationships with our clients. Whether your project is large or small, we can work within your time frame and budget to find innovative ways to engage your audience.
Quickly and easily search our vast database of products for items to:
Improve traffic at trade shows
Motivate staff
Thank a customer
Increase safety awareness
When you find what you are looking for, please contact us so we can discuss your needs in greater detail. If you are just browsing, click on our 'request for more information' option and we'll get back to you.
Featured Item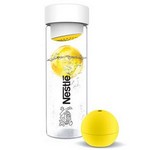 Ice Ball Flavourit Glass Water Bottle
The Ice Flavourit Ball 20 Oz. (600 mL) glass water bottle with fruit ice ball maker adds an ice cold infusion of flavor to your water. Place your favorite fruit in the ice ball infuser, add water or y...